This weekend, I attended Lollapalooza in Chicago for the third year in a row. Although I decided to only go to Friday and Sunday rather than all weekend, I definitely had as much fun in just two days.
Friday
12:30PM: Despite the suffocating heat that flooded Grant Park bright and early, I managed to get into the park after waiting about twenty minutes in line. I quickly made my way to the Pepsi Stage (which used to be known as The Grove), to see Kyle Thornton & The Company, which is a "Boston based 'soul-hop' group that aims to bring you a fresh new sound sampling influences from several genres while still remaining grounded in the passionate and honest style that is the blues." Check out their website here.
I have had the privilege of meeting these guys a few times while in Boston at Berklee College of Music over the past year or so and was elated to find out that they had won a contest that landed them a spot to play the ginormous festival this year. They had a good sized crowd, despite being given a time slot early in the day, since the festival goers are notorious for not showing up until about 3 or 4 in the afternoon. They kept the crowd entertained with original songs and throwing in a cover of Ed Sheeran's "The A-Team."
Photo courtesy of Kyle Thornton's Facebook Page.
1:30PM: I cautiously made by way to the Palladia Stage to see James Bay's performance. If you haven't heard of him already, James Bay is a 24 year old British singer-songwriter who is quickly finding success in the states. His single "Hold Back the River" has been playing on U.S. radio for months now, and his live show is incredible. Songs like "Best Fake Smile," and "Let it Go" got the crowd singing along and made people passing by stop and listen to what he had to say. He is an unbelievably talented guitar player and performer and got the crowd very excited about his music. I can't wait for more things to come from Bay in the near future.
2:15PM: I headed to the opposite side of the festival and was lucky enough to catch the majority of Glass Animals' set while waiting to see Tove-Lo perform at 3:00pm. The English band had a decently sized audience and got a great reaction from the crowd when they sang their most popular song, "Gooey." Watching from afar, I was impressed with the band's ability to keep the audience engaged, despite nobody being able to understand what exactly they were singing about.
3:00PM: Tove-Lo: Although I am somewhat familiar with this Swede's album, I was overall disappointed with the performance. She started off strong, performing upbeat songs, quickly performing her latest hit "Talking Body," to keep the crowd interested (I despise this song). The crowd was definitely into the performance, but it took a toll for a more boring time when she decided to sing two or three slow songs in the middle of her set. She eventually pulled it together and sang her smash "Habits (Stay High)," and while the entire crowd assumed she was finished, she ended with "Timebomb" as the majority of the crowd left the stage (For the record: I stayed until the end of the last song because I like it). The ending was a bit awkward, but a good try for her first time at the festival. Better luck next time!
5:40PM: After a couple hours of relaxing, grabbing some dinner, and refilling water bottles, I headed to the BMI stage to see BØRNS' 40 minute set. Hailing from Grand Rapids, Michigan, Garrett Borns is making his way into the music industry, touring with the likes of MisterWives, Bleachers, and Charli XCX. Despite being on the smallest stage in the entire festival, Garrett performed to a huge crowd and did a great job doing so. I was very far away, so it was hard hearing him due to the poor setup of the stage and the multiple trees surrounding the little to none standing area. I unfortunately missed him sing "Seeing Stars," but got to hear "10,000 Emerald Pools," and his hit, "Electric Love," that got the audience singing along. I am anxiously awaiting the release of his debut album and will definitely continue to follow his career after such an awesome performance at Lollapalooza.
Photo Credit to Getty Images
6:30PM: After having to deal with choosing to see one band out of the three I wanted to see at this time on Friday, I finally decided to see First Aid Kit and miss out on Alt-J and Gary Clark Jr. I absolutely have no regrets. First Aid Kit is comprised of two Swedish sisters named Klara and Joanna who have an undeniable knack for nailing harmonies and writing killer folk lyrics. They performed to an intimate, dedicated audience who virtually knew every word to every song they sang. Some of my favorites were "My Silver Lining," "Stay Gold," and "Waitress Song." The duo closed with their biggest song "Emmylou" and let the audience take over the chorus, looking to into the sea of people with joy as they sang the words back.
If you haven't listened to them, I suggest you do. They were arguably the most underrated act of the day, if not the entire weekend.
Photo Credit: Myself 🙂
7:45PM: I saw the legend himself: Sir Paul McCartney. Getting a whopping 2 hour, 15 minute set time, the man himself put on a performance big enough for the entire city of Chicago, performing like he was still 25 years old and the biggest superstar in the world. At 73, McCartney played over thirty songs to a crowd nothing like I have ever seen before, pulling out hit after hit to cater to his dedicated audience. Performing classic Beatles songs such as "Let It Be," "Blackbird," "Eleanor Rigby," and "Hey Jude," the crowd sang along to every single word. He even teased the audience of a Kanye/Rihanna appearance by singing about thirty seconds of "Four Five Seconds," but the duo never showed up. Which is fine, because he was incredible on his own. My favorite song was most definitely the eight minute Hey Jude performance, including a massive audience sing along that gave me and the other 40,000+ (a rough estimate) people goose bumps all over.
Photo Credit: Myself 🙂
Sunday
11:30AM: I was so excited to be inside of the festival so early because my friends and I had time to roam around, take some photos, and get some water before we parted ways to see the first bands of the day.
12:00PM: My friend and I walked over to the Sprint Stage to see The Wombats perform. The Wombats are a British Indie Rock Band who have found success in Europe and are slowly breaking into the States. Their most famous song, "Let's Dance to Joy Division," has been featured in a variety of TV shows such as One Tree Hill. I was especially excited to see the band perform due to their short list of American performances, and knew they would have a big and rowdy crowd. They performed old and new songs and kept the audience on their toes. Definitely a memorable performance to kick off the day!
Photo Credit
1:15PM: My friends and I ventured to the Toyota Tent to see an acoustic performance by Of Monsters & Men. We only caught one song, but it was really cool to see such a big band perform in such an intimate setting.
Photo Credit
2:30PM: I was anxiously waiting to see George Ezra live since about January, and was so insanely excited to finally see him perform! A massive crowd was gathered around the Samsung Galaxy stage to see the 21 year old perform. Everyone was getting impatient when 5 minutes had passed and George still hadn't started his performance. At 2:36, Lollapalooza was evacuated. Everyone was in complete shock, especially because there was no dark clouds or rain. We were evacuated for about an hour and the music kicked off at 4pm. With no cancellations, Lollapalooza did a great job at rescheduling every performance and got everyone back in promptly.
4:15PM: George Ezra finally kicked off his set! Due to the evacuation, he had to cut his set time in half, leaving him time to only perform 4 to 5 songs. The crowd eventually made their way back to hear him perform. He's an unbelievable performer: his ability to hold the audience's attention with only an acoustic guitar and no band was amazing to see coming from such a young performer. Despite not hearing my favorite song live, Barcelona, George put on an awesome performance and made the most out of a shortened set.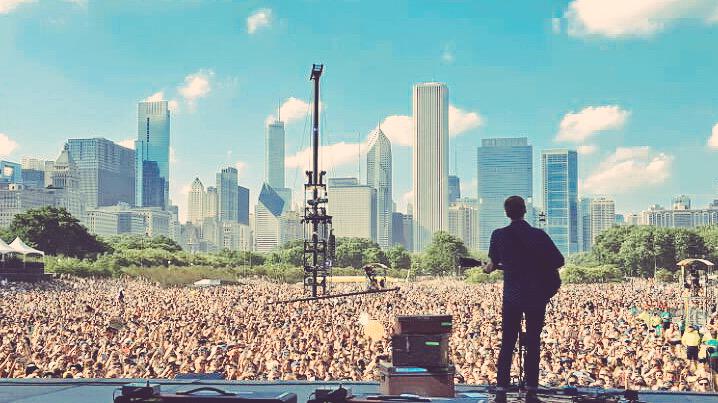 4:45PM: Something that I love about this year's Lollapalooza lineup is the amount of women who were on the bill. Marina & The Diamonds, one of my favorite acts, was amazing, as always. I've seen her twice before this weekend: once opening for Coldplay in 2012, and a second time at her own headlining show in May of 2013. Flash forward to 2015, and she's put out a new album and has been at nearly every festival this summer. The crowd was rowdy as she walked onstage to perform, wearing a black latex bodysuit and 5 inch pink heels, despite the horrible heat and humidity of Chicago. I was surrounded by fans who knew every word by heart and who were just as passionate as Marina about her music. Playing new songs like "Froot" and "Can't Pin Me Down," she owned the stage. She closed out with her hits "Primadonna" and "How to Be a Heartbreaker."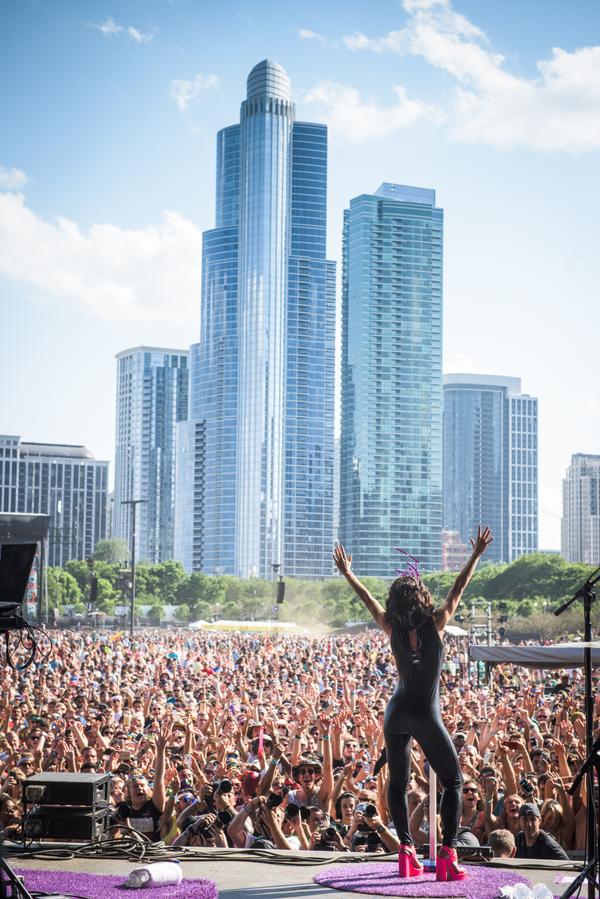 Photo Credit
5:30PM: The act that I was most excited for was finally performing: Twenty One Pilots! After making their debut at Lollapalooza in 2013, I knew they were going to put on a huge performance to an even bigger audience. Opening with "HeavyDirtySoul," The duo quickly got the crowd excited, continuing their hour long set with backflips, crowd drumming, and sing alongs. My favorites were definitely their performances of "Tear in My Heart," "We Don't Believe What's On TV," and "Ride," which are a few of my favorite tracks off of their new album, "Blurryface." There were so many people at the stage that I wondered who was even performing at the same time, because it felt like all 100,000 Lolla-goers were at their performance. This was my second time seeing them live, and it was unbelievable, once again. They're definitely two of the best performers I have ever seen in my entire life.
7:45PM: After making my way out of the massive Twenty One Pilots crowd, I got some dinner and got to the BMI stage to see Halsey. I had the privilege of seeing Halsey perform alongside James Bay and MisterWives at a free concert at the Vic on the previous Wednesday, and was just as excited to see her perform again on Sunday. Only 20 years old, Halsey found success through her massive internet following after dropping an EP. Her debut album will be out at the end of the month, and she has already sold out a headlining tour in the fall. To say she will soon find massive success is an understatement: she already has half a million followers on Twitter and found even more of a fanbase after opening up for Imagine Dragons this summer. After her first two songs of her performance, she brought up a special guest, Joshua Dunn, drummer of Twenty One Pilots, to drum with her during her song "Colors." At the end of her set, the crowd's energy was so wild that she even jumped into the crowd not once, but twice. I wouldn't be surprised to see her take on a MainStage within the next two years at Lollapalooza.
9:00PM: We finally made it to the last performance of the night without getting evacuated! Last one on the list: Florence & The Machine. I am going to keep it short and sweet, since this blog post is over 2000 words and I cannot keep typing anymore. Florence Welch was other worldly. Her performance was something I have never seen before, and cannot even begin to describe. Her performance of "Cosmic Love" nearly made me cry, and her energy was on another level, running back forth across the entire stage all night. She ran through the crowd multiple times, and even shed her sheer blouse during her closing performance of "Dog Days Are Over," having to cut her hour and a half slot early due to incoming storms. I was completely mesmerized by her the entire time.
Photo Credit
That's a wrap for Lollapalooza 2015. For those who went, who were your favorites? Any disappointments? I'd love to hear opinions in a comment below 🙂