Chicago Mayor Lori Lightfoot announced via a press conference this afternoon that Lollapalooza is officially canceled, as well as major events like Taste of Chicago, the Chicago Air and Water Show, Chicago Jazz Festival have been canceled through September 7, 2020.
Just a month ago, Lollapalooza organizers had shared on their Twitter feed that the festival was planning to make a final decision by the end of May: which likely took a backseat in Chicago due to the ongoing protests happening almost daily in response to the death of George Floyd as well as the ongoing concern over COVID-19.
Many fans were wondering why Lollapalooza didn't cancel much sooner, especially because Pitchfork Music Festival, which was set to take place just a few weeks prior to Lollapalooza, announced its cancelation on May 6. It's likely that it has to do with the festival bringing in a massive amount of income to the city every year. According to a 2018 story in the Chicago Tribune, Lollapalooza funnels about $6 million annually to the Chicago Park District and impacts Chicago's economy greatly, with about $245 million coming into local hotels, bars, restaurants, and more.
It also may have taken this long to be canceled because Live Nation has publicly discussed the possibility of still putting on festivals this summer—with social distancing measures in place, of course. While it's debatable if something like that would actually be feasible in Grant Park—with the festival bringing in about 100,000 people a day—we may never actually know.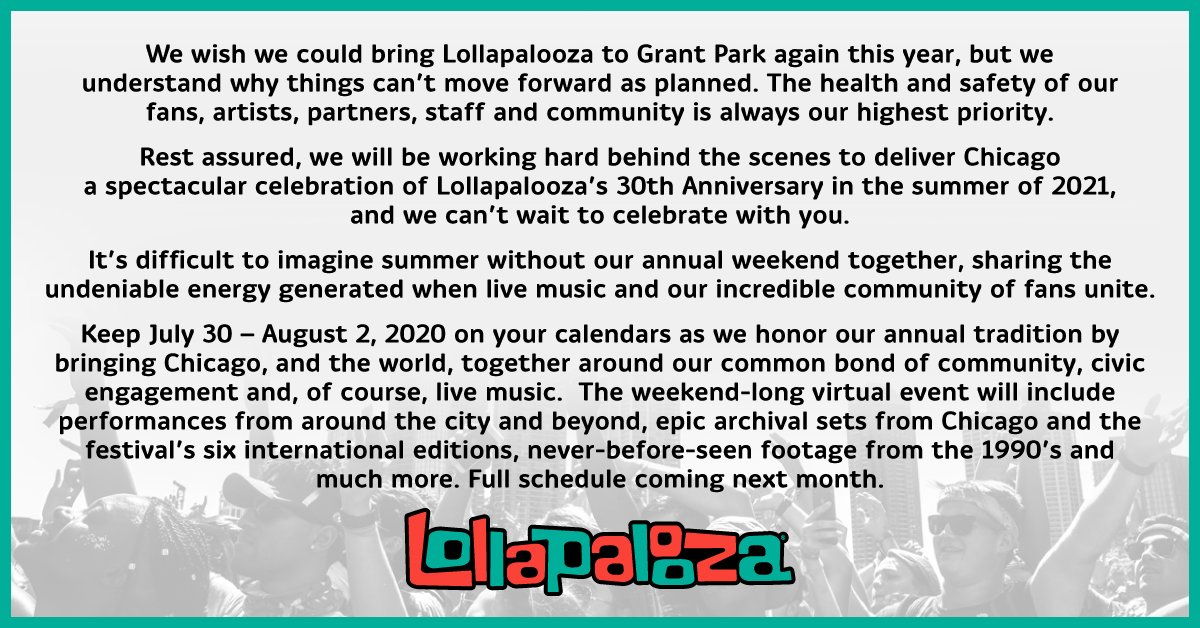 Millennium Park is set to reopen in mid-June with limited in-person programming.
The only other major festival in Chicago that has not made a public decision on canceling is Riot Fest, which is slated to happen from September 11-13, 2020. Major tours like Harry Styles' and Lady Gaga's have shows in Chicago set for the end of July and mid-August with no announcements of cancelation—yet. According to Governor Pritzker's plan for Restore Illinois, we won't be able to have major festivals, events, and conventions until Phase Five, which won't happen until "a vaccine or highly effective treatment widely available or the elimination of any new cases over a sustained period."
Illinois is on track to hit Phase Four by the end of June, which allows "gatherings of 50 people or fewer are allowed, restaurants and bars reopen, travel resumes, child care and schools reopen under guidance from the Illinois Department of Public Health."