Can you believe we're here? Lollapalooza is actually happening. Music is back. Though there are still plenty of things to be concerned about as each day goes by and the Delta Variant spreads, I'll try to keep a positive outlook on the way that things seemingly feel to be getting better, I guess? I'm totally skeptical, but hey, trying to see the best in everything!
I initially was not planning on attending Lollapalooza this year: I moved to Los Angeles at the beginning of 2021 and it would have been a lot to buy a four-day pass this year and pay for flights, etc. However, I applied to cover the fest for the fourth or fifth time—I've honestly lost count—never anticipating I would get it now. But hey, I GOT ONE! This is a really great opportunity for our publication and we can't wait to experience Lollapalooza 2021 with a whole lot of great coverage for our readers!

Since I wasn't planning on attending, and we've rebranded slightly (and no longer have "Chicago" in our name), I wasn't going to do a write-up this year on acts to see. I had already given some friends some recommendations several months ago when the lineup dropped, and some of those are in the list below! We're officially ten days out, which simultaneously anxiety-inducing and exciting all at once.
Below are 21 acts we think you should get on your radar at Lollapalooza this year: all ranging in genre, scheduling, popularity, and more. Though per usual, we opted out of highlighting the second tier and top tier (subheadlining and headliners) due to the fact that they're all incredibly popular as it is, and won't have any shortage of viewers in attendance during their sets. There are also artists NOT on this list that I absolutely plan on seeing – be sure to keep an eye out on our coverage during the event and our review of it afterwards to see who I end up checking out this year. Here we go!
Christian French – Lakeshore, 12:15-1pm
Genre: Pop
For Fans of: Quinn XCII, Jon Bellion
For an artist who screams commercial appeal, I'm really surprised Christian French hasn't blown up (more than he has) already. He's been making music that should have gone viral on TikTok before TikTok became what it is today: and I'm certain that it's only going to be another year or less before he truly explodes. The Indiana native has been making music for several years, initially uploading covers onto YouTube and original music onto SoundCloud while attending college to study biology. After a couple of his songs performed well, like insanely well on Spotify, he realized he could potentially do this music thing full time. He's garnered a strong fan base thanks to touring with the likes of Chelsea Cutler and Quinn XCII, and I'm sure he'll have a decent crowd at his debut Lollapalooza performance.
We interviewed French two years ago for our Artist of The Month series: check it out here.
Aly & AJ: T-Mobile, 1-1:45pm
Genre: Pop
For fans of: Maggie Rogers, Carly Rae Jepsen
Yes, Aly & AJ are still making music together, and if you're not living under a rock, you probably already know that earlier this year, they released their first full length project in over ten years (here's our review). It's really strange to me that they're booked this low on their date, considering that they've had success selling out large venues in Chicago (Thalia Hall and House of Blues), but trying to understand the booking structure of music festivals is a big waste of time. Their newest album has a handful of bops, but I'm more excited to hear their older music, like the EPs they released in 2018 and 2019. I'm also assuming they'll be playing some of their biggest songs, like "Potential Breakup Song" and "Like Whoa," and I'm sure it will be a cathartic experience for many.
almost monday: Grubhub, 1:50-2:30pm
Genre: Pop
For fans of: LANY, The Wldlfe
If you liked Lany before they got incredibly overexposed and before the lead singer was publicly talking about his breakup with Dua Lipa longer than they ever dated to begin with, then I think you'll like almost monday. After I saw a band getting some press on the internet about a song called "hailey beebs" I knew I had to check them out (the song is great and only says her name once or twice). Despite the band releasing their debut EP in the middle of a global pandemic, it ended up performing very well, the lead single "broken people" landing a Top 2- spot on Alternative Radio. Their newest EP til the end of time dropped on July 9.
Lauren Sanderson: BMI, 3:20-4pm
Genre: Pop
For fans of: The Aces, Chelsea Cutler
Shoutout to another midwestern-grown artist! Indiana-native (Like French) Lauren Sanderson's debut full-length project Midwest Kids Can Make It Big met positive acclaim in 2020, garnering her spots on tours with artists like FINNEAS and Chase Atlantic. Back in 2014, Sanderson built an impressive online following as a YouTube personality, eventually being recognized as "Most Influential Up & Comer" at the Indiana Social Media Summit just six years after graduating high school: at the time, she was getting over a million views a day on her social channels. At the age of 19, she gave a Tedx Talk about coming out as gay, leading to numerous public speaking opportunities.
In June 2016, Sanderson released her debut EP Center of Expression and was subsequently hailed an "artist to watch" by Young Hollywood. After one more successful independent EP, she signed a record deal with Epic Records, but has been back to releasing music independently in 2021. Sanderson's music blends influences from pop, R&B, and hip-hop.
Dayglow: Lakeshore, 3:45-4:45pm
Genre: Pop
For fans of: Boy Pablo, Wallows
If you follow our publication, you already know we're really big fans of Austin artist Dayglow, who recently dropped his sophomore album Harmony House this past May. Based on how much Dayglow has exploded over the last 2 years, it's wild to think that this will be his debut at Lollapalooza. Sloan Struble, also known as the brains behind the band's operation, started making music at just 10-years-old, teaching himself how to play several instruments and eventually mastering the art of mixing and producing music. Harmony House exudes likability, blistering with '80s pop sounds and feel-good dance tracks. It's inevitable that Dayglow's mid-afternoon set will garner a large crowd this year in Grant Park.
renforshort: Grubhub, 12-12:30pm
Genre: Pop
For fans of: Billie Eilish, Carlie Hanson
19-year-old Lauren Isenberg is a Canadian artist who has been writing music since the age of 13. After several sessions with professional producers as a pre-teen that never went anywhere, she began posting cover songs on YouTube and Soundcloud in 2015. Thanks to meeting her now collaborator Jeff Hazin in 2016, Isenberg began releasing music under the moniker Ren: her first single "Waves" was released in 2019 and was a success online: eventually garnering the attention of Geffen Records, who helped Ren release her second single "Mind Games," which was eventually nominated for a songwriting prize.
I would have thought that Ren, who now releases her music under renforshort, would have been a bit of a bigger artist at this point: but like many artists, COVID got in the way of her plans of touring: she was supposed to play a handful of shows to support her debut EP dropping. However, I think renforshort is still going to get some big attention later this year and in 2022.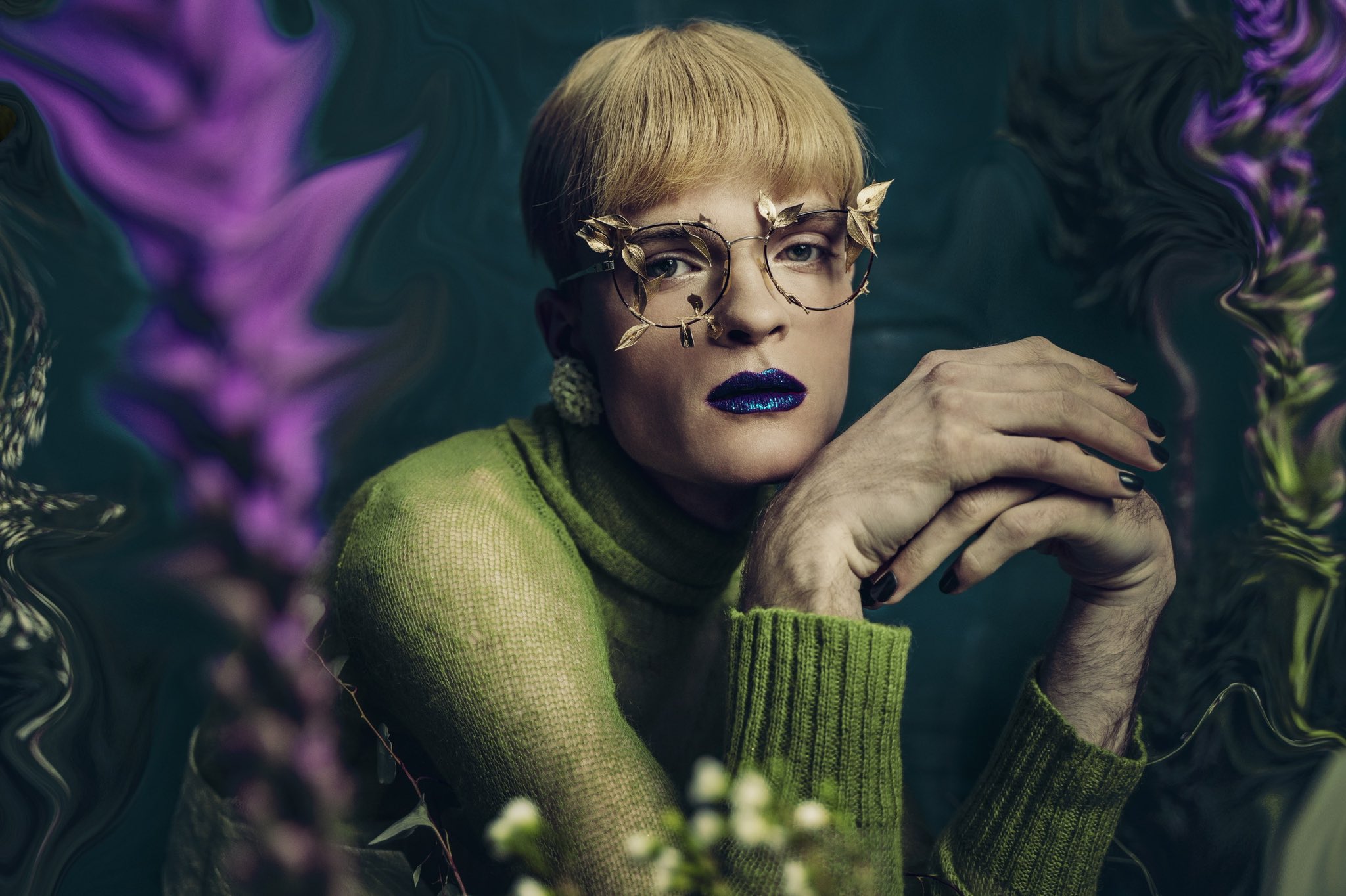 Jake Wesley Rogers: BMI, 1-1:40pm
Genre: Pop
For Fans Of: Ben Platt, Wrabel
Nashville-based musician Jake Wesley Rogers got his start on America's Got Talent when he was just 15. After a break, Rogers released his first songs in two years earlier this year: they're both also his first songs released after signing with Warner Records. The first of the two, "Middle Of Love," is a true force to be reckoned with: the first true moment that will be documented as start to superstardom.
Rogers has been in the studio with Eren Cannata and super songwriter Justin Tranter (frequent writing partner of Julia Michaels). His music embraces a "high glam" aesthetic reminiscent of the greats like Madonna and Elton John. Although he's playing on the smallest stage in Grant Park, we know he'll put on a massive show.
Jawny: Grubhub, 2:50-3:30pm
Genre: Pop
For Fans Of: Still Woozy, Kid Bloom
California native Jacob Lee-Nicholas Sullenger, also known as JAWNY, formerly Johnny Utah, has been making quite the buzz on the internet since 2019, initially releasing "Honeypie" as an independent artist, leading to his signing with Interscope Records in January 2020. The song currently has over 144 million streams on Spotify. Jawny eventually released his major-label debut EP For Abby in October 2020, receiving positive acclaim across multiple outlets, including NME – who called it "one of lockdown's most innovative and colourful bedroom pop projects."
Jawny's sound is pop, with hints of funk and even a bit of hip-hop in a handful of tracks – particularly reminiscent of artists like Brockhampton. Jawny just released a new six-track EP, so it's safe to say that he'll have plenty of material to work with during his set.
grandson: T-Mobile, 2:45-3:45pm
Genre: Rock
For fans of: Twenty One Pilots, Awolnation

Jordan Edward Benjamin (aka grandson) signed to Fueled By Ramen in 2018, eventually releasing a handful of singles that are all incredibly political: "Blood // Water" is about political corruption (and now has over 300 million streams on Spotify alone), "Thoughts & Prayers" is an intensely critical track about American gun laws, inspired by the tragedy of the Parkland, Florida shootings. The song "6:00" is about police brutality. I've been dying to check out grandson's live performance for about three years now: his controversial (in the best way) rock music is absolutely going to be a great experience with a big audience.
Elohim: Grubhub, 5:15-6pm
Genre: Dance
For Fans Of: Whethan, Vérité

I'm not super big on dance music, and when I do like it, it's usually a very specific sound that leans on traditional pop melodies and song structures, and it has to be a song that I can add to my workout playlist. With that being said, I stumbled upon Elohim a few years ago before her debut at Lollapalooza 2017, and I've been a super big fan of her music ever since. It's quintessential dance pop music, and she sings live during her sets, which isn't the case for all dance musicians. The music ranges from lighthearted lyrical content to deeper songs with more meaning behind the words, but they all have incredibly infectious dance beats. Definitely a chill set to check out if you're looking for someone's set to enjoy during this time!
Mothica: BMI, 6:50-7:30pm
Dance: Electronic Pop
For Fans Of: Allie X, bülow
If you've been around these parts before and have a general idea about how I (Kristin) prefer music to sound, you know that I'm a sucker for artists who make upbeat sounding music with really sad lyrical content. Brooklyn-based musician Mothica (real name McKenzie Ellis) is a master of this styling: her music talks on heavy matters like depression (what she is diagnosed with, along with narcolepsy), and during the early days of her career while posting covers to YouTube, like many of these listed artists have done, she recieved a lot of horrifying hate comments. At 15-years-old (TW: suicide attempt), she tried to take her own life by jumping into traffic.
Moving from Oklahoma to New York City to pursue music certainly impacted her "sad in the club" sound – and she's continued building an impressive discography with several EPs and two full length albums: along with her newest song "buzzkill," released earlier this year.
Sophie Cates: BMI, 1-1:40pm
Genre: Pop
For Fans Of: Maude Latour, Isaac Dunbar
This is quite the interesting booking. After combing through this year's Lolla lineup: I stopped at this name. Who is Sophie Cates and why did that name sound somewhat familiar? After some Googling, I realized that Sophie Cates is the human behind Silver Sphere, an artist based out of Chicago who has been doing fairly well over the past couple years, releasing her second EP all my boyfriends in 2019 and getting coverage from several big publications. Sophie's social channels are all still labeled as Silver Sphere, and she hasn't posted about performing at Lollapalooza anywhere that I've seen. I will report back!
Michigander: Grubhub, 1:50-2:30pm
Genre: Indie Rock
For Fans Of: Mt. Joy, Young The Giant
The Midwestern artists are REPRESENTING this year and as a fellow midwesterner who spent 26 years of my life in Illinois, I love to see it! Kalamazoo, Michigan based Jason Singer's early days of releasing music were successful ones: his debut, independent single "Nineties," released in 2016, was a viral success, landing on several major Spotify playlists and garnering the attention of major outlets like NPR, Paste, KCRW, and more. It makes sense that Michigander is playing Lollapalooza, (besides the point that he's incredibly talented), but his latest EP Everything Will Be Ok Eventually was released on C3 Records, which is also the production company behind Lollapalooza and festivals like Austin City Limits (C3 Presents).
We're looking forward to this set: and be sure to stay tuned for more coverage from Michigander. The EP I just referenced has been a favorite of our writing staff: we won't be surprised if it ends up on our "Best of 2021" list at the end of the year.
The Backseat Lovers: T-Mobile, 2:45-3:45pm
Genre: Indie Rock
For Fans Of: Hippocampus, Briston Maroney
Utah-bred rockers The Backseat Lovers' origin story is pretty serendipitous: lead singer Joshua Harmon introduced himself to then-local drummer Juice Welch and asked if he wanted to start a band. Later on, Harmon bumped into the band's current guitarist & vocalist Jonas Swanson while in line at an open mic night, and the rest is history.
For a band that has two million monthly listeners on Spotify and nearly 80 million streams on their 2019 album ALONE, you'd think there would be a lot more press on these dudes. However, I haven't found a ton of information on their rise to success – at least yet. Though there are plenty of bands playing at Lolla this year, I think The Backseat Lovers, who have been selling out dates on their upcoming tour left and right and already sold out their aftershow at Schubas, should be one not to miss on your schedule this year.
Joy Oladokun: BMI, 3:20-4pm
Genre: Singer/songwriter
For Fans Of: Jensen McRae, The Brook & The Bluff
When I was trying to figure out how to describe Oladokun's music when coming up with the "for fans of" section of this feature, I wanted to write Tracy Chapman, but figured it would be more hopeful to readers if I made the references to current artists. Ironically enough, while researching Oladokun further, I discovered that she was inspired to learn how to play the guitar at 10-years-old after watching a video of Tracy Chapman performing. We love to see it!
Oladokun grew up listening to country and folk, as well as artists like Bob Marley and Lauryn Hill. Growing up in the Christian Church, she eventually left it as a young adult because she felt like it limited her creativity. Oladokun's music is incredibly personal: as she writes from experiences being a Black woman and a queer woman, as well as the dynamics between religion and sexuality.
In 2020, Oladokun released a handful of politically-charged singles surrounding racism and the Black Lives Matter protests: the track "I See America" being named one of NPR's 100 Best songs of 2020.
Serena Isioma: BMI, 5:40-6:20pm
Genre: Indie Pop/R&B
For Fans Of: Arlo Parks, Remi Wolf
We wrote about Serena Isioma, the 20-year-old Chicago-based artist who recently went viral on TikTok for their song "Sensitive," last month when we included them in a New Music Sunday roundup, so here's another shoutout for this hometown artist! The self-proclaimed "nonbinary rockstar" calls to artists like Tyler, the Creator and fellow Chicagoan Chief Keef as two major influences.
Isioma's music fluctuates between R&B, hip-hop, and pop: reintroducing the idea of what it means to make music from their bedroom. Isioma is also set to support Omar Apollo's Lolla aftershow at The Metro.
Moore Kismet: Perry's, 12-12:30pm
Genre: Dance
For Fans Of:
Omar Davis is 16-years-old and has had an incredible breakout year, despite living through a worldwide pandemic. Not only were they the singular dance artist featured in the 2020 edition of Billboard's 21 Under 21, but they landed themselves a record deal with United Talent Agency and UMG's Thrive Music. Kismet's debut album is dropping later this year. We all know I'm not one to see any music at Perry's Stage every year, but I just may pop over on Sunday afternoon and see what's going on, solely. because Kismet is incredibly talented and is probably younger than the majority of the festival's attendees. Pretty rad!
Noga Erez: Grubhub, 1:50-2:30pm
Genre: Pop
For Fans of: Billie Eilish meets M.I.A. meets Tove Lo

I stumbled upon Israeli musician Noga Erez earlier this year when one of her singles was on Spotify's New Music Friday playlist, eventually leading to my discovery that she had released an entire album. Kids is her second full length release, and it's full of incredibly catchy pop & hip-hop fused bangers. When I say she's like a combination of Billie Eilish, M.I.A. and Tove Lo, I think that's really spot on. She has similar production qualities to her music as Eilish, rapping capabilities like M.I.A, and her vocals sound like Tove Lo. Those three artists are pretty different, but if you can imagine combining them and liking it, definitely check out Noga Erez on Sunday afternoon.
Elderbrook: Grubhub, 2:50-3:30pm
Genre: Dance
For fans of: Rüfüs Du Sol
If you're into dance music, but not the kind where you're intensely head banging, I think you'd like Elderbrook. Similarly to what I said about Elohim, Elderbrook's vibes are similar, and I'm sure he's going to put on a fun set during this early afternoon slot. Alexander Kotz is the brains behind Elderbrook, and funny enough, he started his music career performing in an indie band during his teenage years, eventually moving into a singer-songwriter lane before committing to dance music. Like creatives Billie Eilish and her producing partner and brother Finneas, Kotz has also had some unique sounds sampled in his music, like "the breaking of reading glasses" and "crackling ice into a warm coffee."
Mxmtoon: Grubhub, 4-4:45pm
Genre: Pop
For Fans Of: Conan Gray, Cavetown
If you love autobiographical lyrics, you'd love Mxmtoon (if you don't already?) Maia was born in 2000…so she's essentially the quintessential Gen Z'er who originally self-released her debut EP Plum Blossom back in 2018 after recording it on her laptop in her parents' guest bedroom. The EP has since been streamed over 100 million times. Oh, and she was basically Hannah Montana during these years. Her friends and family didn't know she was releasing music, but Maia eventually told them after her songs were becoming incredibly successful (I would, too). Mxmtoon is basically a household name at this point to music fans who are on the internet: she has over 3.5 million followers across social channels and over 5 million monthly listeners on Spotify. I assume she'll pull a large crowd!
Brittany Howard: Tito's, 4:15-5:15pm
Genre: Soul
For fans of: Alabama Shakes, St. Paul & The Broken Bones

I feel like I use this phrase a lot, but if you don't know who Brittany Howard is and you're reading this blog, do you even listen to music? I will admit that we haven't covered Brittany's music or Alabama Shakes much, or ever, but seeing her perform live is an entirely different experience (and I think it's a must-see experience), considering you can't fully grasp her talent from a recording compared to her talent live. I saw her perform at Lollapalooza 2015 with Paul McCartney, and even though that was one or two songs, it was still incredible. Howard's first solo album Jaime dropped in 2019, which received critical acclaim and seven Grammy nominations. Need I say more?
Follow the playlist below!